The academic year for 2008 has come to an end and what better way to celebrate than a little splurge at Ralph Lauren ... even better with their 50% off store wide. For those 2 days, all we did was live, breathe and sleep RL. From the main shop along Collins, to Myer & DJ on Bourke and then finally to Chaddy, it kept calling out for more more more! And so, the craziness of it lead to this :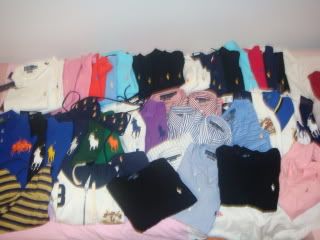 Note: this is not my shopping damage alone. A collection for the residents of 36/2. -_-"

A good number of items were purchased by the very happy shopper viewed below:

However, nothing can beat the freebies i got thanks to my dads golfing friends. Another plus point for the game of golf! :D FREE MAKE-UP FROM BENEFIT!
Ok, granted the tinted moisturiser did give me a slight break-out and after that i swore never to use this brand again. BUT considering that its free and now that im back, a facial is just a phone call away, why not right? The gift pack includes benetint, glossiness lip gloss, california kissin' lip balm, a lipstick in guilt free, a creaseless cream shadow/eyeliner and a maybe baby EDT :D
And yes, the sudden blogging indicates that i am back in the hot & humid KL! I want my chicken rice !